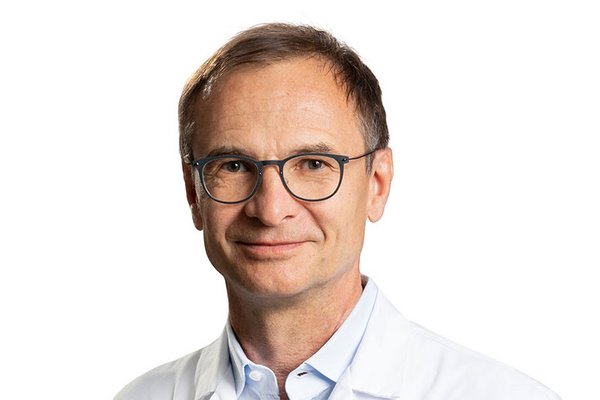 Andreas Raabe
, MD
Professor, Director and Chief Physician
Prof. Dr. Andreas Raabe, MD specializes in brain tumors surgery, aneurysms and spinal diseases. To protect important motor functions during brain surgery, Andreas Raabe has developed a new continuous monitoring method. He has also introduced microscope-integrated…
Prof. Dr. Andreas Raabe, MD specializes in brain tumors surgery, aneurysms and spinal diseases. To protect important motor functions during brain surgery, Andreas Raabe has developed a new continuous monitoring method. He has also introduced microscope-integrated video-angiography to neurosurgery for the operation of aneurysms and vascular malformations. For the development of these innovative surgical procedures, he received the prestigious "European Lecture" award from the European Society of Neurosurgery in 2019.
In September 2020, Andreas Raabe together with two scientists from Carl Zeiss Meditec Inc. was nominated for the German Future Prize for the development of an innovative robotic visualization system in neurosurgery.
His professional training and specialization was supplemented and deepened during annual stays at renowned universities abroad. Andreas Raabe is a regular speaker at national and international courses or congresses, especially on topics such as training, surgical techniques, innovations in surgery, aneurysms and brain tumors.
Andreas Raabe is a member of several national and international professional societies and a reviewer for the most important international journalist in the field of neurosurgery. He is also a reviewer for the Swiss National Science Foundation and the German Research Foundation.
Professor Raabe`s list of publications includes more than 360 original papers, reviews or book contributions.
Languages: German, English
Contact
Specialities
Brain tumors microsurgical operation, navigated and monitored brain surgery near important brain areas with functional neuronavigation and continuous motor monitoring as well as dynamic mapping.
Aneurysms surgery, advice on the procedure for aneurysms found by chance
Spinal canal stenosis and herniated discs microsurgical operations
Focus on safety through modern intraoperative techniques

Structural, functional and vascular neuronavigation
Intraoperative new imaging (ICG and %-ALA fluorescence imaging)
Functional mapping and monitoring (IOM) during brain surgery
Surgical interventions while the patient is awake
Research Focus
Intraoperative new imaging and navigation
New methods of functional monitoring during brain surgery
Intelligent robotics for spinal surgery (Zero Morbidity Project)
New knowledge technologies for medicine
Memberships
Awards
2020
"Nomination for the German Future Prize": robotic visualization system-efficiency in microsurgery; Raabe A, Masini M, Seitzinger F.
2019
«European Lecture Award»: Congress of the European Association of Neurosurgical Societies 2019
Vocational Stages
Seit 2008
Director and Chief Physician of the Department of Neurosurgery at Inselspital, Bern
1999–2008
Senior Physician and Deputy Director of the Department of Neurosurgery, Johann-Wolfgang-Goethe University, Frankfurt, Germany
1997–1999
Specialist and senior physician at the Neurosurgical University Hospital Leipzig, Germany
1997
Research stay at Addenbrokes Hospital, University of Cambridge, England
1990
Development aid primary health care in Managua, Nicaragua
Education
1990–1996
Further training in the field of Neurosurgery at Chemnitz Hospital, Germany
1986–1990
Study of human medicine at the Medical Academy Carl-Gustav Carus, Dresden, Germany
1984–1986
Study of dental medicine at the Friedrich Schiller University, Jena, Germany