Cavernomas are vascular malformations consisting of irregular small vascular cavities. The risk of hemorrhage is rather low except for brainstem cavernomas. Nevertheless, a cavernoma can cause epilepsy, headaches or neurological deficits. However, many cavernomas are asymptomatic and are only discovered by chance. Whether and how a cavernoma should be treated must be decided individually for each patient. At Inselspital, we have regular interdisciplinary meetings for this purpose and maintain a special database for cavernoma patients in order to continuously improve the treatment of this rare disease.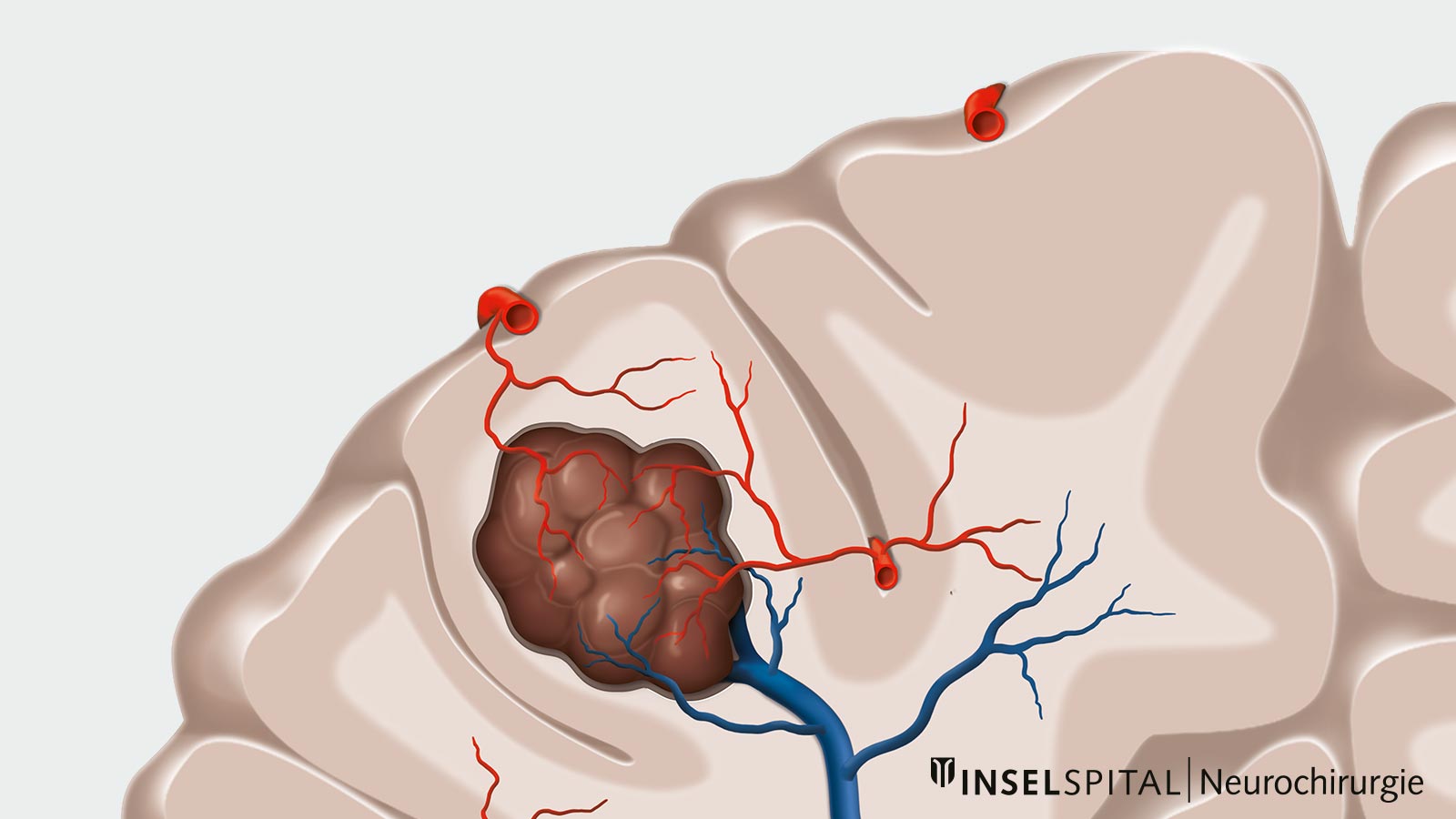 How frequent are cavernomas?
Cavernomas occur in about 0.5% of the population *. They can occur sporadically or in families (approx. 6%). Cavernomas are not always congenital, but can also form in the course of life.
Cavernomas in the brain stem have a higher risk of bleeding compared to cavernomas in other locations **. If a brain hemorrhage from a brainstem cavernoma has already occurred, the 5-year risk of hemorrhage is estimated to be approximately 30.8%. Asymptomatic brainstem cavernomas have a significantly lower risk of hemorrhage (approx. 8% within 5 years) *. However, it is still significantly higher than that of cavernomas outside the brainstem, which is only about 3.8% within 5 years *.
What symptoms can a cavernoma cause?
Approximately 20–40% of cavernomas are incidental findings during magnetic resonance imaging (MRI). These cavernomas do not cause any symptoms and therefore have not been noticed.
The most common symptom of a cavernoma is epilepsy. Other symptoms can vary widely and usually depend on the location and size of the cavernous vascular malformation.
Smaller hemorrhages or thromboses often occur within the cavernoma. Therefore, additional symptoms may include paralysis, sensory disturbances, speech or visual disturbances, dizziness or headaches.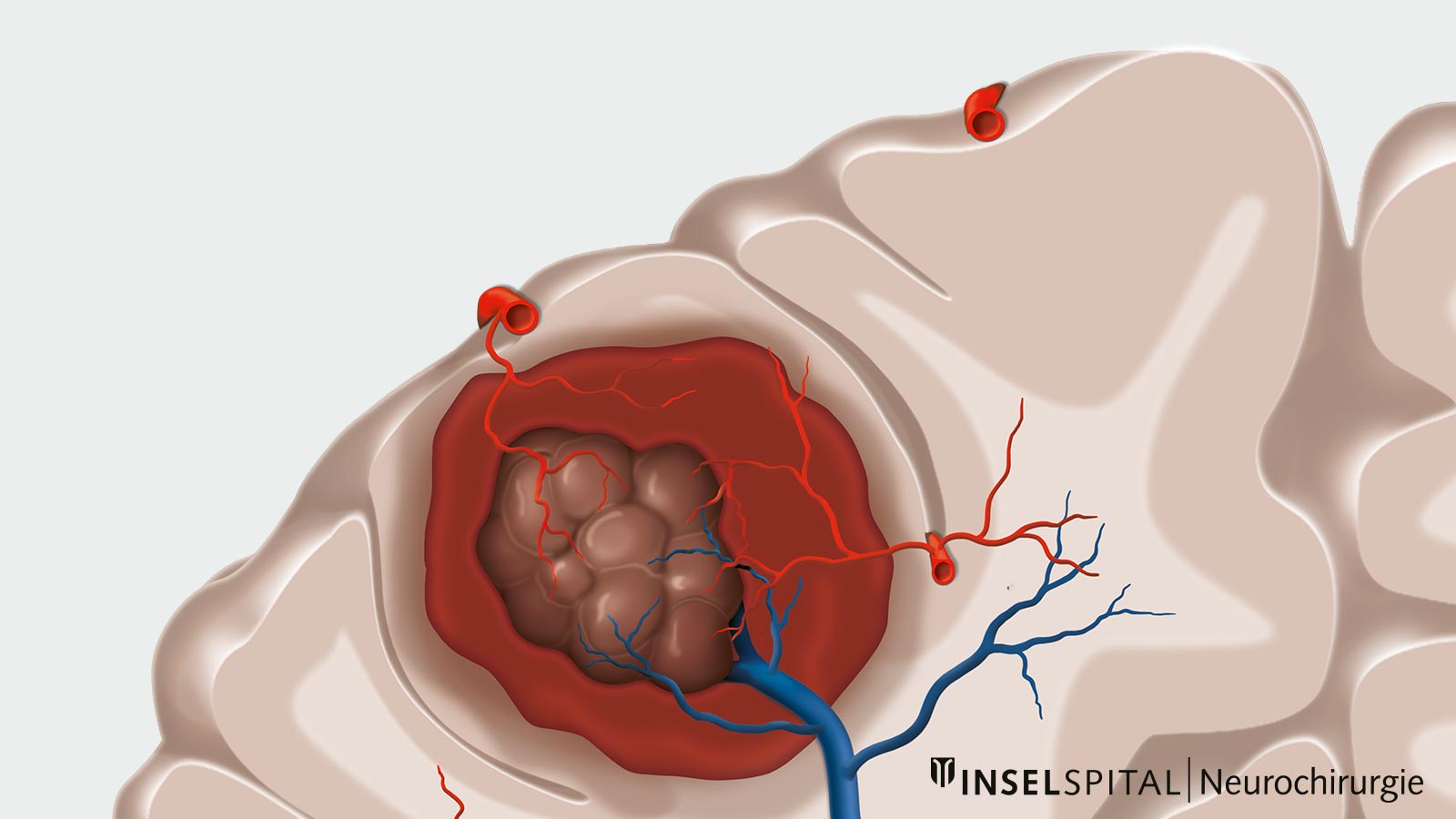 How is a cavernoma diagnosed?
Typical of cavernomas is their dynamic behavior. Although cavernomas do not have large arteries or veins inside and blood flow is slow and low, they can still cause bleeding. Usually, cavernomas do not cause large and dramatic hemorrhages,but minor hemorrhages to nearby areas often occur when a cavernoma empties or ruptures. Therefore, cavernomas are almost always surrounded by scarring, the so-called gliosis, and blood degradation products that can be visualized radiologically. * *
The diagnosis of a cavernoma is made during an MRI examination with the administration of contrast medium. With the help of special sequences (SWI sequences), blood degradation products can be visualized and a statement made as to whether or not a cavernoma has already bled once or not.
Does a cavernoma need surgery?
Whether or not cavernomas should be surgically removed depends on numerous factors and must be decided for each patient on a case-by-case basis. Important factors here are symptomatology and localization. * Compared to cavernomas in the brainstem, cavernomas in the cerebrum are much more harmless in their course. ** Furthermore, cavernomas are relatively often (in about 60% of cases) associated with venous anomalies, which may also influence the surgical procedure.
Surgery is usually only recommended for cavernomas that have become symptomatic. The closer a cavernoma is to functionally important areas, the earlier it becomes symptomatic. This is the reason why cavernomas are a special case in surgical neurosurgery: Surgery must often be performed in the immediate proximity of important functional areas. Therefore, a very careful indication for surgery is needed.
Safety
Functional neuromonitoring
Innovation
State-of-the-art surgical procedures
Research
Special cavernoma database
Our experience at Inselspital
At the Inselspital Bern, all cavernoma patients are recorded in a special database. According to this, the average annual risk of bleeding is approx. 2.3% *. Interestingly, no significant correlation between the risk of bleeding and the use of blood-thinning medications (aspirin, Plavix) could be demonstrated on the basis of our patient data *. Another study in international collaboration even showed that taking blood thinners reduces the risk of bleeding caused by a cavernoma *.
Safety requirements are particularly high in cavernoma surgery. Here, we use innovative surgical procedures such as neuronavigation-assisted surgical planning, functional navigation and intraoperative monitoring. This is necessary to remove the cavernoma safely, gently and completely. *